How did you first get involved with Theatre 121?
My wife's side of the family (the Czarnys: Wife Lisa and her parents Lou and Janie) were heavily involved in Woodstock community theatre for years prior to Theatre 121. I had helped out from time-to-time behind the scenes (load ins/outs, ushering). Naturally, we continued to participate once Theatre 121 was formed.
What made you want to work/volunteer with Theatre 121?
I believe I "caught the bug" after performing in my first show, "A Few Good Men" in 2019. I continued with Theatre 121's production of a "Christmas Carol" where I was able to perform with my two daughters, Alexie and Lia, and "work" for my wife, who produced the show. I simply enjoyed both experiences.
Your first show on the Opera House stage was "A Few Good Men", which was TownSquare Players' (TSP) final production before merging to become Theatre 121. You normally worked behind the scenes to help with load-ins and set building. What made you decide to jump onstage as an actor?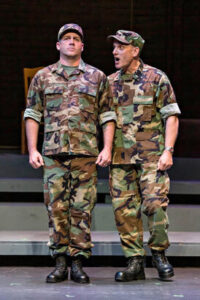 I am a Marine Corps veteran. When I heard TSP was producing the show roughly a year before, I set my sights on finally auditioning for a role. I loved the movie and the themes. I am eternally grateful to Madeline Franklin, our director, for the opportunity.
What do you do outside of theatre?
Oh boy.  Aside from a full time job, I play guitar ("play" is subjective), love to cook/bake, and am in the finally stages of getting my master's degree from WIU in Law Enforcement Administration. I also split time carpooling our kids around for all of their activities.
What is a random fact that no one knows about you?
I won a holiday baking contest at work.