What is your role on the board?
Secretary, and serving on the Marketing commission.
What is your involvement with theatre?
I have been involved in the theatre world for almost 22 years. Yikes! That makes me feel old. I have worn many hats including; Director, Assistant Director, Producer, Makeup/Wig Designer, Set Dresser, Musical Theatre/Theatrical Makeup Instructor, and of course Actor! My freshman year of high school, I was signed up to audition for "Man of La Mancha." I chickened out and took the bus home. When I walked in the door, my mom said, "What are you doing home? I thought you were auditioning for the musical?" I said to her "I decided not to, I'm too nervous." She immediately drove me back to school, and I faced my fear of auditioning. I was so excited when I was one of the only freshman cast, and I had TWO lines. HUGE DEAL (it was to me). Notable roles on stage include; Lon Smith (Meet Me In St. Louis), Carmen Ghia x3 (The Producers), LeFou (Beauty & the Beast), Bert Barry (42nd Street), Jetsam (The Little Mermaid), Bun Foo (Thoroughly Modern Millie), Horton (Seussical), Joseph x3 (Joseph…Dreamcoat), Linus (You're a Good Man, Charlie Brown), Chino (West Side Story), Ryan Evans (High School Musical) and many more! I also had the pleasure of playing Parker (Upstaged: The Series) on YouTube!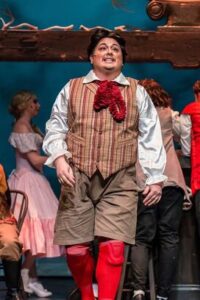 What made you want to serve on the Board of Directors for Theatre 121?
I have been involved with both WMTC & TSP behind the scenes/on the stage and they have become my family. When the thought of Theatre 121 came about, I was part of the transition team while also serving as Secretary for TSP as well. It is an honor to be serving, and working toward building a bright future for our theatre community!
What do you like best about being on the Board?
Every single board member has special skills/talents and when we all come together, we create theatre magic. We strive to keep the amazing history of WMTC & TSP alive.
​In your opinion, what makes Theatre 121 special?
We welcome ALL with open arms. One thing that you'll hear our members saying is "This is my family." I have been involved with many theatre companies, and none have been as welcoming as ours!
Outside of serving on the Board, what do you do?
I am a Licensed Esthetician/Makeup Artist and I own a Skincare/Makeup Studio in Crystal Lake. I have also been a Barista at Starbucks for almost 13 years. I love traveling, being a foodie, performing, interior decorating, collecting Funko Pops, snuggling my pups, and spending time with my partner of almost 10 years, Daren.
What is a fun fact that not many people know about you?
I used to play soccer/gymnastics.