How did you first get involved with Theatre 121?
My first experience with Theatre 121 was through the musical Mamma Mia! It was such a joy getting to partake in a show with as much joy and spirit as that show, especially with the stunning cast and production staff.
What made you want to work/volunteer with Theatre 121?
​I've been a part of the theatre world for over 10 years, and when I finished college, I was worried I wouldn't be able to experience those joys any more. I'd been meaning to audition for some community theatre, but never found the courage to do so, until I heard that Theatre 121 was doing Mamma Mia. It's a show full of dance and liveliness and great characters, and I knew that it would be just the show to get me back into the theatre world.
Once I auditioned and got cast, I knew that it was an organization I would want to stick with. I loved being back near the stage, loved getting to see stories come to life, and loved getting to work with passionate and talented individuals.
What has been your favorite experience with Theatre 121?
I haven't had the chance to do too much yet, but Mamma Mia will always stick out to me. After not having been a part of a cast since college, the cast of this show reminded me just how wonderful it feels when castmates become family. I don't know if there's one specific moment that stands out with that show, but I know I always left with a massive smile on my face and so much love in my heart–and that's not an exaggeration!
You've worked backstage during our production of A Christmas Carol and performed onstage during our production of Mamma Mia. Do you have any advice for actors that may want to work backstage?
If you're on the fence, just do it! If you haven't been a part of the theatre world ever or it's been a while, take the chance and reach out. I highly doubt you'll regret immersing yourself in a group of people who want to see you laugh, smile, and succeed.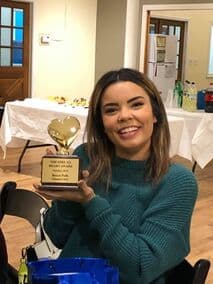 You were a dance captain for Mamma Mia. What exactly is a dance captain?
I've had the awesome opportunity to be a dance captain in almost every show I've been in. Though the minor details can change depending on the show and the choreographer, the basis is the same (in my opinion)–help the cast feel more confident and comfortable in their dancing abilities. Not everyone has been dancing since they were five years old, but as a dance captain, I strive to help them show that they've been dancing for years when they step on stage.
Dance captains will be at every dance rehearsal, learning all of the moves to ensure that they can teach the steps to anyone who missed. I typically schedule dance reviews before every scheduled dance rehearsal so that we can dust off any cobwebs and make sure we're in the right space before we begin the actual rehearsal.
Most importantly, I think a dance captain helps people feel confident in their movements. Helps them realize that their movements are powerful on stage and that they can do it if they set their minds to it; we just help them get there.
​What do you do outside of theatre?
Outside of theatre, I am a Senior Content Writer for a digital marketing company, Logical Position. I also coach a boys soccer team with the Crystal Lake Soccer Federation. Apart from that, I'm a firm believer in spreading positivity, so right now I'm working on setting up a blog of my own and share uplifting posts on my Instagram.
What is a random fact that no one knows about you?
When I was younger, I used to make up dances and cheers and do them at the edge of our driveway, haha! Or I would make up dances to songs and make tickets for my family, so they could watch my show.