What is your role on the board?
Vice President
What made you want to serve on the Board of Directors for Theatre 121?
I have been involved with Woodstock theatre since 2016 when I directed A Christmas Story.  Right away, I felt at home with the theatre family and started to take on more roles in the community. From 2017-2019, I sat on the TownSquare Players (TSP) Board of Directors in charge of Social Media and Digital Marketing. I was part of the original group and founding board for Theatre 121 as the Secretary, so the move to serve the board for a few more years seemed natural. I love this community, even though I now call Chicago home, and love the opportunity to help improve our theatre group, tighten our theater family and produce strong meaningful art in Woodstock which has become a second home to me.
What is your involvement with theatre? Do you act, direct, watch shows?
​My theatrical career goes back to the fifth grade when I played Bobby Soxer number three The Trial of the Big Bad Wolf, one line and a swoon later and this girl fell in love with acting!  I used to practice my Oscar speeches as I got ready in the morning and you can bet my American Dream term paper had me winning three of them while sitting cozy in my Malibu Beach house!  I continued to act and choreograph through high school and beyond performing professionally and in the community in roles such as Ti Moune; Once on this Island, Ophelia; Hamlet, and Cinderella; The True Story of Cinderella.  I also had some credits for choreography with companies like Lakeside Players; Rhode Opera House, Round Lake Players; RLAPD and Bowen Park Players; Waukegan. Before taking a break to focus on my career, I worked for a short time as a performer at Six Flags Great America. After five years away from the camera and the stage, I moved back to Chicago and found myself again in this passion for acting. It quite literally saved my life in one of the worst times I had ever experienced. From there, my mentor thrust me into directing, a passion I never knew I had and absolutely where I am most at home. Since my return in 2010, I have directed several shows including A Christmas Story; TSP, Addams Family; Woodstock Musical Theatre Company (WMTC), Picasso and the Lapin Agile; CLC and The Creator; Three Brothers Theatre. I have also had the great pleasure of working as an actress again, both professionally and in the community theater circuit.  These past few years have also given me the opportunity to do film, starring in features like Red Windows; Funeral House Productions, shorts like A League of their Own; Notebook Entertainment, commercials for CDW, Volo Auto Museum and Simply Stone and even web series like Upstaged; Film Stripped Productions. I have also done a lot of voice over work on podcasts as a guest in with my company CDW where I voiceover our main recruiting video; We Are CDW. In Short, yes, I do all of the above! 🙂
Shannon Day (right) at CDWG.What do you like best about being on the Board?
I love being able to support our community while helping keep the history of TSP and WMTC alive. The business side of theatre is not always the fanciest side of it, but it is great to be able to have a positive impact and use my skills to build this community for the future.
​In your opinion, what makes Theatre 121 special?
It's a family and we're inclusive!  From the second I got the news that TSP had hired me for A Christmas Story, I felt welcomed. As time went on and I became more ingrained in the Woodstock community, it became so obvious that this little town had rallied around its love of the arts! Theatre 121 brings that value along with years of history from both TSP and WMTC in order to create an environment where audiences and artists alike can escape, if only for a few hours.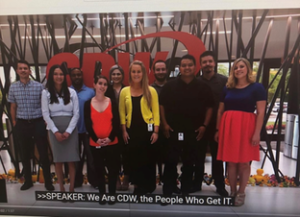 Outside of serving on the Board, what do you do?
I am a Territory Field Sales Manager for CDWG overseeing 15+ coworkers and the Pacific Higher Education Territory. I also sit on the Women's Opportunity Network, Women in Sales and Engineering Committee which helps to keep the women in our organization engaged, successful and progressing with in CDW. If I am not at the theater or work, I can be found hanging around with friends and family! Currently, I am working with It's Showtime Theatre of Huntley, directing School House Rock, Jr. Live!
​What is a fun fact that not many people know about you?
In college, I worked with the Office of Professional Standards under the Chicago Police Department where I helped to investigate the claims against the department. Majoring in Political Science, I had a longer term interest in internal affairs and pursued a few different clandestine organizations in my mid-twenties.