What is your role on the board?
I'm a Director at Large. I help with anything the theatre would need administrative wise, but primarily I focus on our marketing and social media. I create content for social media, organize the Instagram takeovers, help with advertising our shows, and design the playbills used for performances.
What is your involvement with theatre?
I got involved with theatre in high school because I didn't want to play softball in the spring. My mom wanted me to do some sort of extracurricular activity, so I decided to try theatre. My first role was as an ensemble member in a local high school production of Annie. I had to travel to a different high school to participate because my school [Catholic K-12 school] did not have their own theatre programs for high schoolers. I loved the experience of being involved with theatre, but my passion wasn't really for being onstage. I discovered the backstage elements for theatre in college and fell in love. I primarily work in stage management, but I've done everything from light board operator to running crew to prop designing.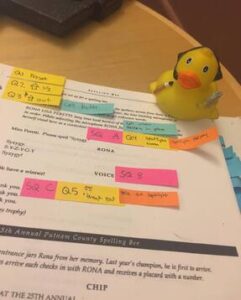 What exactly is a stage manager?
If anyone asks me what a stage manager does, I always tell them it's part admin. assistant, part project manager, and part soccer mom. During rehearsals, I am in charge of creating a 'manual' of the production that has a record of every possible aspect of the show that would be needed in case someone had to step into the role and not be completely lost. During performances, I help call technical cues such as light changes, sound effects, or set pieces moving; I also help maintain the director's artistic vision of the show for each performance so it's consistent for every audience. I almost went to grad school for stage management, but I didn't want theatre to be my full time job, so I love that Theatre 121 gives me a space to still stage manage without having it be my full time job.
What made you want to serve on the Board of Directors for Theatre 121?
I held an internship in college with a local community theatre in Michigan. I learned all about the business end of running a community theatre, and I realized that I could benefit the theatre community by working behind the scenes for any of the office/administrative responsibilities. This role is where I really learned about the importance of social media and marketing, and I wanted to bring this experience to Theatre 121's board. ​
In your opinion, what makes Theatre 121 special?
When I first moved to the area, I didn't know anyone. I knew one way to meet new people was to get involved with theatre. My first production was working backstage for WMTC's production of Addams Family. After that production, I worked in the Woodstock Opera House box office for 2 1/2 years. Before Theatre 121 came to be, WMTC and TSP helped give me a community to call my own. They welcomed me with open arms and I'm so grateful for that. Being able to help keep the legacy of TSP and WMTC alive, while also creating a new tradition in Woodstock has been an incredible experience.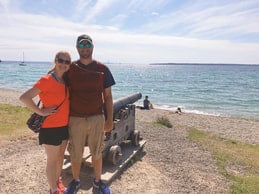 Outside of serving on the Board, what do you do?
I work in marketing for a company called TPC Training. I also like to read and stay active however I can.  My boyfriend [Dave] and I love to be outdoors when we can, so during the summer you'll find us out boating, walking, or enjoying the sunshine. In addition, I'm one of the cofounders of the Lou Awards, a new awards ceremony [named in honor of Lou Czarny, who was active with both TSP and WMTC theatres] that celebrates and recognizes community theatres in the North and Northwest suburbs of Chicago.
What is a fun fact that not many people know about you?
I was born and raised on a farm in Michigan (yes I still point to where I lived in Michigan with my hand). My dad is a 4th generation farmer, and over the years we've grown/raised many different items: dairy and beef cattle, oat, barley, and fruit. Our primary products now are cherries and apples. During Prohibition, my family supposedly helped make moonshine for Al Capone!